Calcasieu Mechanical was founded in 1988 by Ray Blanchard. Sr. Ray had worked the previous 25 years at Moreno's Inc. who had been the largest and most prominent mechanical contractor from the 60's through the end of the 80's in Southwest, LA. Arthur Moreno, owner of Moreno's was Ray's mentor for nearly three decades. The values and philosophies of quality work and fairness to everyone including employees, customers, and vendors that Arthur had insisted on became the cornerstone of Ray's new company. Ray, with wife Janice by his side, formed Calcasieu Mechanical as Arthur was winding down his business and retiring and quickly became the industry leader.
Meanwhile, Lewis Moreno, Arthur's nephew had been learning the trade by working in the field as a pipe-fitter under Ray's watchful eye and later a journeyman HVAC tech. During that same time, Ray Blanchard, Jr. (Jim) was serving in the United States Army as an active duty electronic communications repair facility non-commissioned officer in charge. Both had gotten married at nearly the same time, and both had children early on. They were thousands of miles apart and on entirely different paths but little did they know, their paths would cross.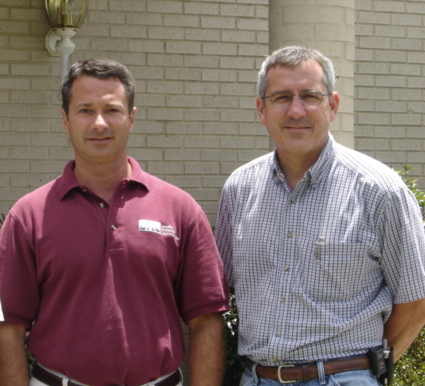 In 1991, Jim joined his father at Calcasieu Mechanical first as the controller, and within two years started the HVAC Service Division of Calcasieu Mechanical. He bought a portion of the company in 1998. Lewis joined the company in January of 2000 as a project manager after working as an HVAC chiller technician for York International. Lewis and Jim had a history of working together in the past at Moreno's with Lewis as the pipefitter and Jim as his helper during a couple of summers while Jim was on summer break from Louisiana State University. Now, together again Jim as president and Lewis as project manager, their friendship and professional relationship grew. Then in 2007, Lewis and Jim became business partners as they purchased the remaining stock from Ray Blanchard.
Since the recession of 2008, Calcasieu Mechanical has nearly tripled in size and is the clear leader in its geographical market. This growth is a product of having department leaders who are the best at their disciplines and a solid workforce to support them. Now with Nicholas Blanchard and Joshua Moreno working in the business, this company is represented by three generations carrying on the tradition.